The Lakireddy Bali Reddy Case
A Family's Criminal Conspiracy Involving Sexual Slavery & Indentured Servitude In Berkeley
*NOTE: All sections of this story were were transferred from the website Women Against Sexual Slavery
The Lakireddy Bali Reddy Case Lakireddy Bali Reddy Chanti Prattipati
Annapurna & Jayaprakash Lakireddy Vijay & Prasad Lakireddy Further News & Events
About Women Against Sexual Slavery Reddy Case Links Why Did Chanti Die?
FURTHER NEWS AND EVENTS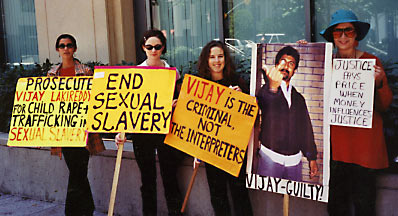 Prasad Lakireddy opens new restaurant a block away from the closed-down Pasand.
October 2011
Prasad Lakireddy proudly opened a new restaurant a block away from the former Pasand Restaurant. You might remember the boycott against the sex-slave family's restaurant. Business went down & Pasand closed. Now they have opened a new restaurant with a different name, Nameste, down the block in the fomer Citibank building at 2323 Shattuck Ave.
Below is the article from Berkelyside on Oct 11, 2011:
http://www.berkeleyside.com/2011/10/11/shop-talk-the-ins-and-outs-of-berkeley-business/
"The landmark former Citibank building at 2323 Shattuck — sitting empty for the last five years — is the new home of Namaste Madras Cuisine, a restaurant featuring food from south India. Prasad Lakireddy and his partners installed cherry wood detailing throughout the building to complement the ornate beamed ceiling designed in 1926 by architect Walter Ratcliff. The chef and owner is Venkat Yaramala, who has 20 years experience running restaurants in Roseville, Chico, and the Bay Area. Meals will be served family-style and the restaurant will be open from 11am to 10pm seven days a week."
---
Controversy about a 2006 Girl-Fest event at a Reddy building takes off again
Recently a lesbian group, BaSappho, has been having an extensive discussion about the appropriateness of having the 2006 Girl Fest festival at Berkeley's Down Low, (a building owned by the Reddy Family.)
Below is an article from the Berkeley Daily Planet that appeared at the time of the controversy.
For Information:
Sex-Slavery Opponents Picket Girl Fest Venue
(on page 5)
---
Lakireddy Bali Reddy listed as second highest doner on Berkeley's Measure R for Nov. 2010 election.
October 2010
For Information:
Who Paid for the Sierra Club's Yes on R mailer?
---
Gurrala Reddy arrested for exposing himself and "performed a lewd act"
October 2010
For Information:
Another Reddy arrested in Berkeley for sex crimes
---
Sid Lakireddy, president of Everest Properties & the Berkeley Property Owners Association
2010
For Information:
Unsafe Buildings Place Tenants at Risk
---
Directory of Services for Survivors of Human Trafficking — A Guide to Resources in the San Francisco Bay Area
Presented through the Partnership of:

San Francisco Department on the Status of Women
San Francisco Human Rights Commission
Jewish Coalition to End Human Trafficking
For the directory:
Directory of Services for Survivors of Human Trafficking
---
Lakireddy Bali Reddy Listed on California's Office of Attorney General Megan Law List of Sex Offenders

For Information:
Meghan's Law List of Sex Offenders
---
Lakireddy Bali Reddy Released from Prison on April 2nd, 2008
Lakireddy Bali Reddy was released from Federal prison on 2 April 2008.

Let us all hope that after 8 years in prison, Reddy has reflected on the error of his ways and is now ready to move forward as a new man.
---
Vijay Lakireddy Protests Berkelely's Lien for Safety Violations
28 Nov 2006

The Lakireddy's never learn. The Berkeley City Council approved a lien against Vijay for continuing to allow his rental property to be in violation of Berkeley's Safety Codes.

The vote against Vijay was almost unanimous, with Councilmember Gordon Wozniac pleading Vijay's case, citing he had so much property, how could he be expected to do repairs in a timely manner. Councilmember Dona Spring, always a protector of tenants' rights & safety, replied that Vijay and his family's real estate empire never responded to any calls from tenants and, in fact, never called her back on the occasions she phoned to express her concerns about safety violations.
---
Upheld fines for Vijay Lakireddy
by Judith Scherr (12-01-06) in Berkeley Daily Planet
The council turned down a request from landlord Vijay Lakireddy to reduce fees for slow compliance in fixing violations under the city's Rental Housing Safety Program in 47 of 60 units he owns at 2033 Haste St.

Lakireddy argued that because he had so many repairs to do he should be given some leeway. "A lot of items were flagged. We did our best," he said.

"When a property owner has far flung real estate holdings, he bears some responsibility for upholding safety laws of the city," Councilmember Max Anderson responded.

Mayor Tom Bates addressed Lakireddy directly: "We hope this is a wake up call."
http://www.berkeleydailyplanet.com
---
Appeal By Vijay Lakireddy Re: Imposition of Lien to Recover Rental Housing Safety Program Fees
The Housing Department rejected Mr. Vijay Lakireddy's objection to $7,800 in fees imposed by the City of Berkeley's Rental Housing Safety Program, thereby allowing a special assessment lien to be filed on Mr. Mosleh's rental property. These fees were incurred in the enforcement of the Housing Code on the property located at 2033 Haste Street, Apartments 101, 102, 104, 119, 201, 203, 204, 211, 214, 306, 314, 318, and the Common Area.

For further information, please contact Carlos Romo, Housing Inspector Supervisor at 510.981.5440.