Dear Visitors and Supporters,
I'm convinced that the wide distribution of this feminist flag would help to bring attention to feminist actions, and to facilitate international feminist solidarity, thereby empowering our struggle to combat misogyny and sexism in all its oppressive and discriminatory forms.
I regret that the words can only be in one language; but I have seen no good alternative to this limitation.
I'm searching for a fabulous feminist organizer with the vision, energy, time and motivation to take on the important job of marketing this beautiful feminist flag.
If you're interested in helping with this project, please contact me via my contact page. Click here. Thank you!
~~~~~~~~~~~~~~~~~~~~~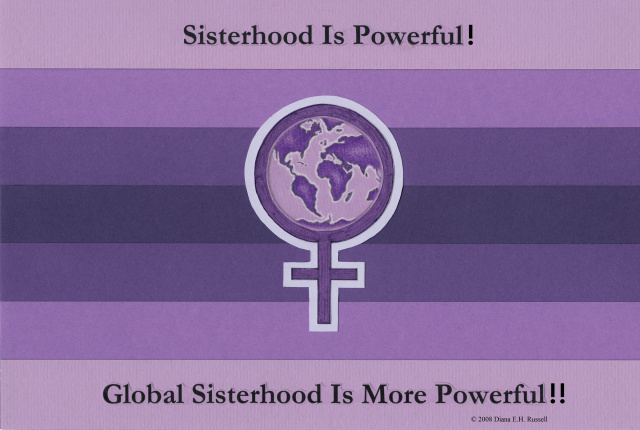 Designer: Diana E. H. Russell, Ph.D. -- Art Work: Laralyn Lee
~~~~~~~~~~~~~~~~~~~~
Please support the work of Diana E. H. Russell, Ph.D. at Facebook, YouTube & Twitter!
http://www.facebook.com/DianaEHRussell
http://www.youtube.com/DianaEHRussell
http://twitter.com/DianaEHRussell
~~~~~~~~~~~~~~~~~~~~
~~~~~~~~~~~~~~~~~~~~
~~~ WEBSITE UNDER CONSTRUCTION ~~~
Please note that this website is a work in progress and that significant amounts of new content will be added to it over time. So please visit again from time to time to check out all of the additional articles and books, etc. that will be available on this site in the future. Thank you!
NOTE RE PRINTING: If you are having trouble printing any content on this website while using the browser Mozilla Firefox, the issue is because of a bug with Firefox. If you wish to print any selections of this website, you'll need to access it via Internet Explorer. Thanks.
Entire website content: Copyright © October 2020 by Diana E.H. Russell.