THE LAKIREDDY BALIREDDY CASE
A FAMILY'S CRIMINAL CONSPIRACY INVOLVING SEXUAL SLAVERY AND INDENTURED SERVITUDE IN BERKELEY*
*NOTE: All sections of this story were were transferred from the website Women Against Sexual Slavery
The Lakireddy Bali Reddy Case Lakireddy Bali Reddy Chanti Prattipati
Annapurna & Jayaprakash Lakireddy Vijay & Prasad Lakireddy Further News & Events
About Women Against Sexual Slavery Reddy Case Links Why Did Chanti Die?
Audio Interview on the Reddy Case with Diana E. H. Russell on GenderTalk Web Radio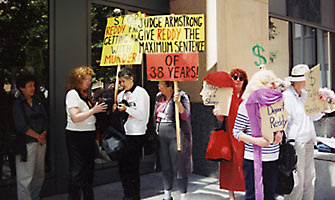 Women Against Sexual Slavery (WASS) was founded in June 2000 by Diana Russell and BJ Miller to educate the public and mobilize protest against wealthy Indian-American Berkeley landlord Lakireddy Bali Reddy, 62 and other members of his criminal family. Reddy and his sons Prasad, 41, and Vijay Lakireddy, 30, along with his brother Jayaprakash Lakireddy, 46, and his sister-in-law Annapurna Lakireddy, 45, were charged with tax fraud and conspiring to falsify documents in order to smuggle numerous illegal Indian immigrants into Berkeley to work as indentured servants in Reddy's Pasand Madras Indian Cuisine Restaurant and other family-run businesses — and in the case of young girls, to serve as Reddy's personal sex slaves and unpaid laborers. WASS's members advocated (and still advocate) that Berkeley residents and visitors boycott the Pasand Restaurant.
The Death of Lakireddy Bali Reddy's Sex Slave
by Diana E. H. Russell

The Lakireddy Bali Reddy case unfolded when 17-year-old Chanti Prattipati and her 15-year-old sister Lalitha were found unconscious on November 24, 1999, by their 18-year-old roommate Laxmi Patati in a Berkeley, California, apartment that was owned by and shared with Lakireddy Bali Reddy. Laxmi had stayed overnight with Reddy at his Berkeley hills home and returned to their shared apartment to find her unconscious roommates. Chanti & Lalitha were poisoned by carbon monoxide from a blocked heating vent. She notified Reddy's family members at the Pasand Restaurant about the state of her two roommates, and they informed Reddy.

When Reddy arrived at the Bancroft Way apartment, he failed to call either the police or an ambulance. Instead, he had his company van brought to the front of the apartment house where he, some of his employees and members of his family proceeded to remove the girls down a dark, enclosed stairwell that was adjacent to an open, clearly visible staircase. They carried Lalitha, who was unconscious, out of the building to Reddy's awaiting van, attempting to conceal her body by wrapping her in a carpet or cloth before depositing her in a the van. They also tried to drag Laxmi into the van despite the fact that she was screaming and resisting their attempts in great agitation.

Berkeley resident Marcia Poole happened to be driving down Bancroft Way when this suspicious-looking scene unfolded before her. She watched as three or four men proceeded to the van carrying a large bundle with a discernable sag in the middle. She was horrified when she saw a leg dangle from the bundle before it was deposited in the van. She slowed her car to a crawl as she watched the men run back to a larger group of Indian men and women who had surrounded Laxmi. They attempted to push and pull her toward the van. Laxmi was crying and resisting their efforts with all her might.

Poole hastily jumped out of her car and attempted to thwart the efforts of Laxmi's would-be kidnappers by demanding that they stop trying to force her into Reddy's van. They ignored Poole's plea and a man whom she later identified as Lakireddy Bali Reddy told her, "Mind your own business! Go away! This is a family affair." Poole refused to oblige him. Instead, she hailed two passing motorists and begged them to call 911 as she continued her efforts to prevent the attempted kidnapping from succeeding. Although the two male motorists would not get out of their cars to assist Poole with her solitary intervention of the kidnapping, one of them called the police. When sirens were heard approaching, the group that had been trying to force Laxmi into the van melted away into the surrounding area, leaving only Poole and the young girls at the scene.

After the paramedics, fire personnel and police arrived, the original group that had tried to abduct the girls started reappearing as if they had just happened upon the scene in passing. Poole gave the police a full account of what she had witnessed but, incredibly, the police decided that nothing was amiss. This hasty judgment was based on their naive reliance on Reddy as translator of Laxmi's answers to their questions. Reddy was therefore able to misrepresent her statements to the police. He also falsely identified Venkateswara Vemireddy for the police as Chanti and Lalitha's father. In fact, the girls -- who were using the phony last name was Vemireddy -- were unrelated to Venkateswara and his alleged wife Padma who were actually siblings. According to a newspaper account, Reddy had "paid off an unknown amount of debt for Venkateswara in India and loaned him $6,500 to buy a pair of airline tickets to the United States for him and his sister" in return for his cooperation in Reddy's immigration scam to get these two adolescent sex slaves to Berkeley (AP ,January 19, 2000).

Alta Bates Hospital nurse Connie Kulick reported in the Coroner Investigator's Report (March 3, 2000) that "this 17 year old female [Chanti] died at Alta Bates Hospital, in Berkeley" (p. 2). Lalitha "was treated and released the next day" (AP, Jan. 19, 2000). Despite the lack of time to properly investigate the case, Bobby Miller, a spokesperson for the Berkeley police, reported that Chanti's death "had been ruled accidental," and that the case was closed (AP,Jan. 19, 2000). An autopsy found that Chanti was pregnant.
Witness Contradicts Reddy
Contradicting Reddy's report to the police that Venkateswara was the father of the Prattipati sisters, Poole told Berkeley Police Chief Dash Butler in a telephone conversation four days after Chanti's death that she was certain that this man was an imposter because of his lack of distress on seeing the terrible state of his alleged daughters. Despite the accuracy of Poole's observation, the police ignored her and chose instead to believe Reddy. They also failed to file charges against Reddy and his collaborators for their attempted kidnapping of Laxmi.

Poole also alerted local newspapers to the discrepancy between Reddy's account and what she actually witnessed. The Oakland Tribune was the only newspaper that followed through and they assigned Cecily Burt to investigate the discrepancy. She wrote the first articles questioning the validity of the account given by Reddy and the Berkeley police.

The Berkeley police began their examination of the Reddy case as a negligent death investigation. They concluded that a leaking gas heater in the apartment the girls shared had caused the carbon monoxide fumes. Although the police determined that this leak was accidental, landlords are typically held responsible for injuries and deaths that occur because of their failure to keep their properties in a good state of repair. Altogether, about 63 leaks were found in the apartment building.

Despite all the suspicious circumstances surrounding this case, the police absolved Reddy of any responsibility for Chanti's death and pronounced her demise to have been "accidental."
Berkeley High Jacket Gets it Right
In the fall of 1999, the teacher of a journalism class at Berkeley High School suggested to two of his students, Meg Greenwell and Illiana Montauk, that they explore the fate of the Prattipati sisters by questioning people in the community about them. The two young students published their findings in their school newspaper (Berkeley High Jacket, 12/10/1999), including their observation that the girls should have been in school — given their youthful age — instead of working for Reddy. It was only after the publication of Greenwell and Montauk's groundbreaking article that the media belatedly started asking questions about this case, and that the police, also belatedly, started investigating Reddy's relationship with the girls.

At least one newspaper reported that a young Indian girl painting one of Reddy's properties had fallen to her death from a ladder. In addition, a man in the same Bancroft Way apartment where the girls lived, was found dead by his brother half a year before Chanti's death. The windows and doors of his apartment were closed, as was Chanti's. After learning that there were approximately 63 carbon monoxide leaks in the apartment, the police did not investigate whether this had been the cause of the man's death. Another resident of the apartment with whom I spoke requested anonymity about the fact that he had been poisoned by a carbon monoxide leak in his bedroom. He said he may have died but for the fact that he slept next to an open window. He woke up one night feeling very ill and went to a local hospital for emergency treatment. However, his problem was not correctly diagnosed. When Chanti died from carbon monoxide poisoning, he realized that this had been the cause of his illness. He commented that Chanti's death had saved other residents from being similarly struck down by the leaks in their apartments because Reddy only had the leaks repaired after her demise when he was under considerable scrutiny by the public.
Lakireddy Bali Reddy Arrest
When the Berkeley Police arrested Reddy in January, 2000, they did so just in time. He had purchased airline tickets to India for himself and his two surviving sex slaves. He had a large amount of gold with him at his arrest.

Reddy was arrested on January 18, 2000, and accused of smuggling young Indian girls into the United States for the purpose of prostitution or other immoral purposes. Despite the fact that he had been trafficking young girls from India to Berkeley to satisfy his pedophilic desires for approximately 15 years, the criminal investigation was confined to his sexual exploitation of the three girls whom he had been raping on a regular basis prior to Chanti Prattipati's death.

According to Reddy's arrest warrant, he had had sex (sic) with these three girls in India, then brought them to the U.S. to continue having sex (sic)with them.

A federal indictment "charged that during a 13-year period, Reddy ... and members of his family used fraudulent visas, sham marriages and fake identities to bring at least 33 men, women and children into the United States" from Velvadam (Chabria, 2001). Since this federal indictment, the period of time during which Reddy has acted in these illegal ways has increased to 15 years, and the number of exploited males and females from India is thought to be closer to 500. Although the visas obtained for many of these illegal Indian immigrants claimed that they would be working in Vijay's software company, these individuals were unqualified for this work. Instead, they were used as waiters, cooks and kitchen workers at the Pasand Restaurant, as well as at Reddy's other business establishments. Given Reddy's pedosexualism, it is worth noting that the walls of his restaurant was decorated with pictures of young females who are nude above their waists.

Reddy forced his indebted Pasand Restaurant employees, who had to repay him for getting them to the United States, to work long hours for minimal wages. He also pocketed their tips. They were given one meal a day at the Pasand Restaurant and had to live in Reddy's often poorly-maintained apartments. They were trapped in their exploited circumstances by their illegal status, their debts to Reddy and his power over them.

After a short period of incarceration, Reddy was released and confined to his brother's mansion in Merced after paying $10-million bail. In order to discourage Reddy from fleeing the country, Judge Brazil constructed the bail to result in heavy financial losses for other members of his family if he fled. This strategy proved effective. His son Vijay, who was also arrested, was also released after paying $500,000 bail.
Plea Bargains
Although Reddy and four family members were described by the media as intending to enter guilty pleas on October 30, 2000, they refused to do so when Judge Armstrong opened the proceedings to the media. Hence the plea bargaining and sentencing was postponed until the following year(2001). In the end, Reddy's sons Prasad and Vijay decided against joining their father and his younger brother and sister-in-law, Jayaprakash and Annapurna, in a guilty plea. Therefore, the plea bargain based on their joint admission of guilt was revoked.

On March 7, 2001, Reddy pleaded guilty to smuggling teenage girls from India for sex (sic) — including one as young as 13 — in a plea deal. In return for this admission, John Kennedy, the Assistant U.S. Prosecuting Attorney, whose job it was to represent Reddy's victims, recommended that he spend only between 5 and 6 1/2 years in federal prison and pay only two million dollars in restitution (his Berkeley properties alone were worth more than $80 million) to three surviving victims and the parents of the Prattipati sisters. Shockingly, in return for Reddy's limited admission of guilt, the Alameda District Attorney agreed not to charge Reddy for statutory rape of the girls despite the fact that he had forced sex on them for many years. Kennedy was clearly derelict in his duty to Reddy's victims when he accepted Reddy's outrageously minimal admissions of guilt as well as for proposing an equally outrageously minimal sentence for these extremely serious crime.
Reddy's Sentence
On June 19, 2001, Judge Armstrong was scheduled to sentence Reddy for "two counts of transporting minors for illegal sexual activity, one count of conspiring to commit immigration fraud and one of filing a false tax return"! These are the absurdly few crimes Reddy was permitted to admit to for his plea bargain. However, Judge Armstrong had the prerogative to reject the minimal sentence that Kennedy had proposed. Specifically, she could choose to sentence Reddy to up to 38 years in prison as well as impose on him a much larger fine than the two million dollars Kennedy had recommended.

After hearing the probation report on the extreme pain and suffering experienced by Reddy's victims, Judge Armstrong argued that the plea bargained sentence of a maximum of six years did not take into account the severity of the trauma to Reddy's female victims. Hence, she ordered the attorneys for the Defense and the Prosecution to leave the courtroom to work out a sentence that addressed her concerns, and return to the courtroom in the afternoon. Appallingly, the Judge had to argue this point against all the attorneys, including ACLU Attorney Jayashri Srikantiah who allegedly represented the victims, all of whom insisted that six-and-a-half years was sufficient. Srikantiah even claimed that the victims were happy with this number of years for Reddy's incarceration.

After meeting during the lunch break, the Attorneys in the Reddy case proposed that the sentence be raised to eight years. Surprisingly, Judge Armstrong accepted this minimal increase in Reddy's sentence. Even more shocking, she granted Reddy's request to serve his sentence in Lompoc Prison, a luxury institution nicknamed "Club Fed." Very few pedophiles are ever cured, so after his brief sentence is over, there are sound reasons to believe that he will continue his pedophilic behavior. A long and more appropriate sentence would have protected other girls from being victimized in the future by this sexual pervert who apparently used viagra to facilitate raping his sex slaves (viagra was found in the apartment where the three girls' resided).

Given the extreme fear of Reddy's sex slaves for their own lives and for the lives of their families in Velvadam, it could be that they and other villagers knew that Reddy is capable of causing his enemies or those toward whom he feels retributive, to "disappear." After Judge Armstrong sentenced Reddy, she required that he publicize to the inhabitants of Velvadam that he would not engage in retributive acts against the girls' families because of their role in causing his incarceration. The judge also required him to tell his supporters not to engage in retributive acts on his behalf. The fact that Judge Armstrong found it necessary to insist that Reddy obey these requirement suggests that she may have grounds to suspect him of being prone to commit lethal vengeance. If Reddy were to engage in murdering Mr. and Mrs. Prattipati regardless of his public statement to the people of Valvadam, he could always claim that one of his many adoring supporters was probably responsible the crimes.

Prosecuting attorney Corrigan hinted that Reddy might be responsible for a double murder. Specifically, he reported "being worried about the safety of witnesses in light of the 'mysterious, unsolved deaths' of witnesses in India" (Sexton, Daily Cal., p. 1). Sivareddy Seelam, "a former Berkeley resident and associate of Reddy" was "doused with acid outside his family's home in Velvadam in April 2000. His grandson also died in the attack" (Sexton, p. 5). In addition, Corrigan referred to "threats directed at other witnesses."
The Berkeley City Council Takes a Stand
Women Against Sexual Slavery worked with Berkeley City Councilman Kriss Worthington to draft the following two resolutions:
NOW THEREFORE, BE IT RESOLVED that the Council of the City of Berkeley supports Women Against Sexual Slavery (WASS) boycott campaign for the Pasand Restaurant; and

BE IT FURTHER RESOLVED that the Council of the City of Berkeley supports strong sentencing for cases involving trafficking of women and children due to the serious human rights violations and unethical, inhumane treatment toward women and children.
Members of the Berkeley City Council voted 7 to 2 to endorse these resolutions, which concluded with a long statement about the horrors of the escalating international slave trade in women and girls for mens' sexual gratification, as well as the charges brought against Reddy.
Interpreters Charged with Bias and Undue Influence
George Cotsirilos, the Attorney for the Defense, tried to discredit the validity of the victims' charges against the Lakireddys on the grounds that two, and possibly three, of the Telugu (the language spoken by the female victims) interpreters had shown bias against his clients. He charged Bharat Koner, the president of the Telugu Society, with bias for having written a letter to Judge Armstrong urging her to deal harshly with the Lakireddys as well as participating in a demonstration outside the Pasand Restaurant on behalf of the victims. Cotsirilos also accused Nalini Shekhar of participating in the same demonstration as well as having developed a "special relationship" with the victims that was unprofessional and contrary to the objectivity required of interpreters.

Judge Armstrong noted that Cotsirilos charges against these two interpreters did not prove that they had influenced the girls or had done their jobs incorrectly.

Cotsirilos reserved his most serious charges for interpreter Uma Rao. In addition to having participated in a demonstration for the victims and having a "special relationship" with the victims, Cotsirilos charged Rao with getting some of them to lie so as to exaggerate the charges against his clients. In court papers filed on October 16, Assistant U.S. Attorney Stephen Corrigan -- appointed as the prosecutor after John Kennedy was promoted to a Judgeship -- "acknowledged that four of the six victims in the conspiracy were encouraged to 'embellish the facts' by Uma Rao"(Sexton, Daily Cal., Oct. 29, 2001, p. 5). In addition, Corrigan conceded that "Two of those victims admitted to lying to the government." Note that the words "acknowledged" and "admitted" both assume that the girls' retractions of charges against Prasad, Vijay and Jayaprakash and their blaming of Rao were valid rather than exploring whether their fear for their own lives as well as their families in Velvadam may have motivated them to retract some of their earlier statements and blame Rao for pressing them to exaggerate the abuse.

People who are knowledgeable about the dynamics of sexual abuse do not presume that retractions are always valid, even when the victims' fear is not salient to the case. Corrigan endorsed the fact that the young girl witnesses "are unsafe" because of factors such as the death in India of Sivareddy Seelam, a former Berkeley resident and associate of Reddy. "Seelam was doused with acid outside his family's home in Velvadam in April 2000. His grandson also died in the attack" (Sexton, 2001). For reasons unknown, the Indian government has refused to investigate these murders, according to Corrigan. He also referred to "threats directed at other witnesses." However, he didn't draw the obvious conclusion that these threats could be responsible for the girls' retraction of some of their charges against the accused. We in WASS subscribe to this explanation for the victims' allegations against Rao. We deplore what we see as Cotsirilos's strategy to try to use his charges against the interpreters as a means to discredit the validity of the victims' accusations against their perpetrators. We see this as a transparent ploy by the Defense.

Rao's attorney denied that Rao is guilty of influencing some of the girls to "embellish" their testimony. Nevertheless, he "counseled her to assert her 5th Amendment privilege" unless she was given immunity. Rao, who had to return to India to take care of her ailing mother, was subpoenaed and required to return to the U.S. to appear in court.

On December 12, 2001, Judge Armstrong recused herself from the Reddy cases claiming a conflict of interest. Judge Claudia Wilken was appointed in her place. This resulted in considerable delay in the proceedings.

Judge Armstrong accommodated Reddy's request for a luxury prison in a similar fashion. As Poole noted, the profoundly classist character of the judicial system is very conspicuous in this case. Classism is also revealed by the minimal sentences received by the three Reddys who had been sentenced to date.
Civil Suit
On November 27, 2000, immigrant attorneys working together with the ACLU, filed a civil suit charging that "...the causes of [Chanti Prattipati's] death were exposure to fumes from a dangerous, defective, and negligently maintained gas heating system at 2020 Bancroft Way and the failure of defendant Lakireddy Bali Reddy to secure prompt medical attention for her after such exposure" (Berkeley Daily Planet, 11/30/2000, p. 1).

This suit included a wrongful death charge brought by Lalitha who, unlike her older sister, survived the carbon monoxide fumes. A large number of Reddy's other victims were plaintiffs in this case, some of whom have been brought to the Bay Area from India to testify at the trial.
Lakireddy Bali Reddy Released from Prison
Lakireddy Bali Reddy was released from prison on April 2, 2008. There was no media coverage of the event. He quietly took up residence in a new palacial mansion that was built for him in the Berkeley hills while he was in prison. He is currently registered as a sex offender on the State of California Attorney General's Megan's list.