WASS -- About Us
The Lakireddy Bali Reddy Case
A Family's Criminal Conspiracy Involving Sexual Slavery & Indentured Servitude In Berkeley
*NOTE: All sections of this story were were transferred from the website Women Against Sexual Slavery
The Lakireddy Bali Reddy Case Lakireddy Bali Reddy Chanti Prattipati
Annapurna & Jayaprakash Lakireddy Vijay & Prasad Lakireddy Further News & Events
About Women Against Sexual Slavery Reddy Case Links Why Did Chanti Die?
ABOUT US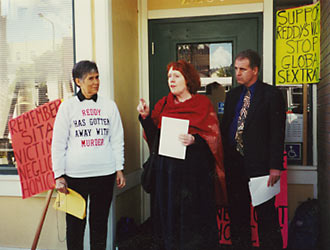 Women Against Sexual Slavery (WASS) was founded in June 2000 by Diana Russell and B.J.Miller to educate the public and mobilize protest against wealthy Indian-American Berkeley landlord Lakireddy Bali Reddy and other members of his criminal family.
WASS's members advocated (and still advocate) that Berkeley residents and visitors boycott the Pasand Restaurant. They continued to picket, sometimes with one or two others, until January 2001. Russell, alone or with one other person, also picketed outside the Federal U.S. Court House in Oakland, when court proceedings were held regarding Reddy. She/they handed out information about the Reddy case and the boycott campaign when picketing outside the Pasand Restaurant or the Court.
Witness to Lakireddy Crime Joins WASS
During the many months to follow, several other women joined Russell and Miller in picketing outside the court and attending the court proceedings regarding all five of the members of Reddy's family who were charged with crimes -- particularly witness Marcia Poole, Grace Christie, Jill Hutchby, Carol de Witt and Charlotte Collins. Poole had been strongly advised by Berkeley police St. Garen Nielsen, the second police officer in charge of the Reddy case, to avoid talking to anyone before she testified in court about what she had witnessed on November 25, 1999, when Reddy and his collaborators attempted to escape with Reddy's cargo of incriminating evidence. However, when she never was called to be a witness in Reddy's prosecution, she finally decided that remaining incognito had became counter-productive. Poole told her story at a press conference outside the Pasand Restaurant on April 10, 2001. Even before that date, Poole had become very active in

WASS

, initiating and participating in numerous campaigns, lobbying, and public statements.

WASS members attempted to educate Berkeley residents about the Reddy scandal by handing out and sending information to the media and members of the public on a regular basis. We also wrote numerous letters to Judge Armstrong urging her to take certain stands, criticizing her when we considered it appropriate — particularly for her shockingly light sentence for Reddy — and praising her when this was warranted. In addition, we initiated a motion that came before the Berkeley City Council to endorse the WASS boycott of the Pasand Restaurant and to denounce sexual slavery in general. We continue to engage in these kinds of activities as well as attending all court proceedings regarding Reddy's relatives.
WASS's Position on the Lakireddys
Members of

WASS

believe that — at the very least — Reddy is guilty of negligent homicide for not repairing the gas leak in the Bancroft Way apartment where his three sex slaves resided, causing the death of Chanti Prattipati.
Since Chanti was still alive when Reddy arrived at the girls' apartment (the fact that she died at hospital was documented on the home page), Reddy may be responsible for Chanti's death because of the precious time that he and his assistants wasted trying to remove her, Lalitha, and Laxmi from the apartment in Reddy's van instead of calling an ambulance. In this case, Reddy would be guilty of murder — or, in feminist terminology,

femicide

(the killing of a female by a male because she is female).
Furthermore, we believe Reddy may be guilty of conspiring to murder Chanti (had she not died), Lalitha and their roommate Laxmi. His behavior suggests that he didn't want the police to know about the carbon monoxide poisoning of the two sisters, or to investigate his relationships with his three young sex slaves. Yet he must have known that the poisoned girls would likely die without treatment.

Reddy's behavior also suggests that he didn't care if the young Prattipati sisters died. It appears that he only cared about concealing their bodies and removing them from the scene. (When Reddy cried after pleading guilty in court, he only apologized to his family — not his victims.) We suspect that Reddy probably planned to dispose of Chanti's corpse and Lalitha's soon-to-be corpse, and, after killing Laxmi, dispose of hers as well.

Reddy was never charged with negligent homicide, regular homicide and/or conspiracy to commit homicide (femicide).
City Officials Colluded with Lakireddys
Some members of

WASS

and many other individuals who passed by when we were picketing the Pasand Restaurant believe that the police colluded with Reddy by ignoring the many obvious signs of illegal behavior going on inside and outside the Pasand. For example, a man who said he was a former employee at the Pasand Restaurant reported to me that the Berkeley Police have known about Reddy's criminal behavior for years, but have overlooked it because Reddy paid them off. Many other passersby mentioned that they had seen the young girls on high ladders painting the Pasand Restaurant in their saris. It was clear to them that the girls were underage and inappropriately dressed for the job. The girls, who couldn't speak a word of English, also worked in the kitchen at the Pasand Restaurant. A couple of people mentioned seeing Reddy promenading on the sidewalk outside the Pasand Restaurant with the young girls on his arms. One passerby reported knowing a group of construction workers at a nearby building site who had figured out what Reddy was doing and reported it to the police about five years ago. The workers were upset and angry when the police ignored their report.
As previously mentioned, the police also ignored Marcia Poole's report about the very suspicious events that she had witnessed. Furthermore, they exonerated Reddy of any wrongdoing almost immediately, overlooking the attempted kidnapping that Poole had told them about. They also discounted Poole's astute observation that the individual whom Reddy had identified as the father of the girls was lying. Most serious of all, the police very quickly decided that Chanti's death was an accident. Many people observed that it seemed to be only the police who showed no awareness of the obviously suspicious occurrences going on at the restaurant.
In this context it is relevant to note that Reddy imported young girls to satisfy his pedosexual desires for approximately 15 years. Furthermore, he "had been under scrutiny by the Investigations Branch of the Immigration and Naturalization Service since February 1998"

(AP, January 19, 2000).

In addition, he behaved like a slum landlord, using some of his untrained indentured servants as well as his three sex slaves to make repairs in his apartment buildings on the rare occasions that he responded to tenants requests; hence the repairs were frequently botched. Many of his tenants complained that Reddy illegally hiked their rents, refused to correct substandard housing conditions, evicted them without just cause, and refused to return their security deposits. Many angry tenants brought suits against Reddy resulting in more complaints being made against him to the Rent Stabilization Board than for any other landlord in Berkeley. Consequently, Reddy was notorious as an unethical landlord who ripped off his tenants and endangered some of them by failing to repair hazardous conditions in their apartments.
The night club that Reddy owned in Berkeley, which was located next door to the Pasand Restaurant, was well-known as a place where drugs were used and sold and where violence frequently occurred. This also earned Reddy a fair amount of notoriety that the police in particular must have been well-informed about. Reddy had formerly owned another night club in San Francisco that had been closed down because of all the complaints of violent incidents, drug consumption and sales that occurred there. In the light of Reddy's notoriety, it seems inconceivable that the police remained genuinely ignorant of what he was doing, especially when so many other people were aware of at least some pieces of the elaborate puzzle of his many illegal and immoral activities. WASS wonders why the Police Review Board did not investigate the police's hands-off policy toward Reddy.
WASS

members also believe that Mayor Shirley Dean and many Berkeley council members turned a blind eye to Reddy's many illegal activities because of his wealth and power in the community and especially because he had donated money to her election campaign, and provided the location for her victory celebration.
Diana Russell, Narika and Other Groups Start Picketing The Pasand Restaurant
On January 22, Diana Russell, a feminist Professor Emerita of Sociology at Mills College in Oakland, and well-known researcher on sexual violence, was incensed by the revelations published in a

San Francisco Chronicle

article describing Lakireddy Bali Reddy's sexually abusive behavior. Unable to find anyone to join her picket outside Reddy's Pasand Restaurant, she decided to protest alone that evening. Carrying a large sign denouncing Reddy's sexual slavery, trafficking, and repeated acts of rape of young girls, the author's action infuriated the Pasand managers and other staff, who threatened to have her arrested for trespassing. When she told them to go ahead and call the police, they backed off.
Unbeknown to Russell, Berkeley resident Norine Smith arrived for a vigil organized by

Narika

-- a facility that assists abused South Asian women. When no one else arrived (the vigil had been postponed for a week), Smith decided to stay and picket on her own. She only picketed on a few occasions before returning to her involvement in a campaign on another issue. In contrast, Russell continued her evening pickets for several months. After about two months she was joined by radical feminist activist BJ Miller, who became a major long-term picketer against Reddy's acts of sexual trafficking and slavery.
A week after the start of the boycott campaign, Narika organized a vigil for Chanti and Reddy's other victims outside the Berkeley Pasand Restaurant on January 29, 2000. About 200 women and men participated and the media were there in force to cover the event. The same day, Maitri — another organization that services abused South Asian women — organized a similar vigil outside Reddy's Pasand Restaurant in Sunnyvale, Santa Clara County, California.

Lone WASS picketer Russell — later joined by two or three others — advocated, and continues to advocate, that Berkeley residents and visitors boycott the Pasand Restaurant to show Reddy and his collaborators that the Berkeley community deplores their participation in the global sex trade. Another important goal is to inform the public about the growing problem of sex slavery in the United States and the rest of the world -- including the following paragraph:

A U.S. government study in 1999 reported that an estimated 50,000 women and children are brought into the U.S. under false pretenses each year from Asia, Latin America and Eastern Europe and forced to work as sex slaves or prostitutes, and/or exploited as servants or laborers. Sexual exploitation includes being used in the pornography industry, serving as "escorts," being imported as "mail order brides," etc. Sexual trafficking of girls and women has now replaced narcotics as the favored illegal trade activity.

In an effort to end the boycott campaign, Reddy and some of his relatives sued Russell on May 26, 2000. One of their complaints was that she seriously impeded their business! This charge did not stop the author from continuing to picket as before; however, it had a chilling effect on several women who had planned to join the picket.

Despite the few picketers, the boycott campaign was very successful in turning business away from Pasand and in educating the public about the heinous charges against Reddy. However, the picketers haven't achieved their goal to close down the Pasand Restaurant. Presumably, even if this business were running at a loss, Reddy's wealth would enable him to keep it open to avoid having to concede defeat.
~~~~~~~~~~~~~~~~~~~~
Please support the work of Diana E. H. Russell, Ph.D. at Facebook, YouTube & Twitter!
http://www.facebook.com/DianaEHRussell
http://www.youtube.com/DianaEHRussell
http://twitter.com/DianaEHRussell
~~~~~~~~~~~~~~~~~~~~
~~~~~~~~~~~~~~~~~~~~
~~~ WEBSITE UNDER CONSTRUCTION ~~~
Please note that this website is a work in progress and that significant amounts of new content will be added to it over time. So please visit again from time to time to check out all of the additional articles and books, etc. that will be available on this site in the future. Thank you!
NOTE RE PRINTING: If you are having trouble printing any content on this website while using the browser Mozilla Firefox, the issue is because of a bug with Firefox. If you wish to print any selections of this website, you'll need to access it via Internet Explorer. Thanks.
Entire website content: Copyright © October 2020 by Diana E.H. Russell.